The Treehouse Suite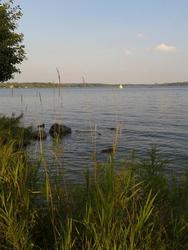 Photos
Description
Located just steps away from historic Lake Eugenia, we are nestled in the heart of the beautiful Beaver Valley. With so many surrounding activities and attractions, you will be sure to enjoy your stay.
Amenities & Features
Location Map
Within a short drive from the greater Toronto area, the Treehouse Bed and Breakfast is the ideal place to stay when planning your getaway to the picturesque Grey Highlands. The area has so much to offer in every season. Enjoy hiking the Bruce Trail, scenic cycling routes, waterfall tours, fishing at Lake Eugenia, canoeing or kayaking the Beaver River and horseback riding at Whinny Acres. ATV trails and motorcycle routes are just outside your door. Village shops and eateries in Flesherton, Eugenia, Markdale and Feversham are all within a short drive. Cycling routes throughout Grey Highlands.
Availability Calendar
Please note that it is the responsibility of the property owner to update the availability calender.
May 2023
| Sun | Mon | Tue | Wed | Thu | Fri | Sat |
| --- | --- | --- | --- | --- | --- | --- |
| 30 | 1 | 2 | 3 | 4 | 5 | 6 |
| 7 | 8 | 9 | 10 | 11 | 12 | 13 |
| 14 | 15 | 16 | 17 | 18 | 19 | 20 |
| 21 | 22 | 23 | 24 | 25 | 26 | 27 |
| 28 | 29 | 30 | 31 | 1 | 2 | 3 |
June 2023
| Sun | Mon | Tue | Wed | Thu | Fri | Sat |
| --- | --- | --- | --- | --- | --- | --- |
| 28 | 29 | 30 | 31 | 1 | 2 | 3 |
| 4 | 5 | 6 | 7 | 8 | 9 | 10 |
| 11 | 12 | 13 | 14 | 15 | 16 | 17 |
| 18 | 19 | 20 | 21 | 22 | 23 | 24 |
| 25 | 26 | 27 | 28 | 29 | 30 | 1 |
July 2023
| Sun | Mon | Tue | Wed | Thu | Fri | Sat |
| --- | --- | --- | --- | --- | --- | --- |
| 25 | 26 | 27 | 28 | 29 | 30 | 1 |
| 2 | 3 | 4 | 5 | 6 | 7 | 8 |
| 9 | 10 | 11 | 12 | 13 | 14 | 15 |
| 16 | 17 | 18 | 19 | 20 | 21 | 22 |
| 23 | 24 | 25 | 26 | 27 | 28 | 29 |
| 30 | 31 | 1 | 2 | 3 | 4 | 5 |