Mont-Tremblant Vacation Rentals: Tremblant Peninsula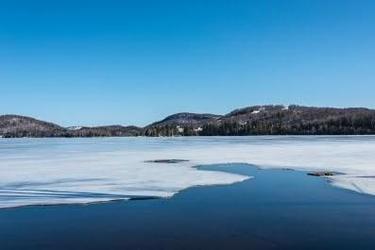 Location
Mont-Tremblant, Mont Tremblant, Quebec, Canada
Photos
Description
Tremblant Peninsula Chalet, a 4 bedroom - 4 bath house fully renovated in 2014, has an exceptional location on a private peninsula in Mont-Tremblant. This Waterfront Vacation Home overlooks breathtaking views of Lake Ouimet, mountains, and the Mont-Tremblant Ski station. The property is surrounded by Lake Ouimet and contains a sauna, Jacuzzi spa, private dock, a beach, and a boat. Lake Ouimet is located near the famous Gray Rocks and Grand Lodge Hotels, an equitation center, and 3 popular golf courses: Le Maitre ClubLink, La Belle, and La Bete. Tremblant Peninsula Chalet is located in Mont Tremblant, simply 5 minutes away from: - the town of Mont-Tremblant where a variety of stores are located - the Mont-Tremblant Ski station called La Montagne - Mont-Tremblant Village also known as the Old Village - and 0.3 miles from the nearest bus station
Pricing Information
The village of Mont-Tremblant, which has merged with the village of St-Jovite, is one of the best destinations in the Laurentians and its international reputation dates back to many generations. The Peninsula Chalet Vacation Rental in Tremblant can be rented seasonally or yearly in the Winter as well as in the Summer. The monthly price is $3,000. Please view the photos and feel free to contact me for additional information. LAST MINUTE Prices: Seasonal (Summer or Winter) call 15 days before comming for a bargain if available.
Amenities & Features
Location Map
Accessed by a private road, Labelle Street overlooks a 5500 square meters private garden that also contains a parking which accommodates numerous cars. The Chalet Peninsula covers around 2100 sqf (200 square meters) and offers 4 bedrooms with 4 baths, accommodating up to 8 guests. Entering the chalet, guests will discover the comfortable spacious area that is made up of the living room, dining room, and kitchen, which opens onto a large terrace with a barbecue. The Chalets' western exposure enables you to enjoy impressive sunsets on the lake. The living area offers astounding water and mountain views all around. The hallway leads to 4 bedrooms and 4 bathrooms, two of which contain an en suite private bathroom and the impressive master bedroom with a jacuzzi and shower. Each room also has an astounding view of the lake and mountains.
Availability Calendar
Please note that it is the responsibility of the property owner to update the availability calender.
May 2023
| Sun | Mon | Tue | Wed | Thu | Fri | Sat |
| --- | --- | --- | --- | --- | --- | --- |
| 30 | 1 | 2 | 3 | 4 | 5 | 6 |
| 7 | 8 | 9 | 10 | 11 | 12 | 13 |
| 14 | 15 | 16 | 17 | 18 | 19 | 20 |
| 21 | 22 | 23 | 24 | 25 | 26 | 27 |
| 28 | 29 | 30 | 31 | 1 | 2 | 3 |
June 2023
| Sun | Mon | Tue | Wed | Thu | Fri | Sat |
| --- | --- | --- | --- | --- | --- | --- |
| 28 | 29 | 30 | 31 | 1 | 2 | 3 |
| 4 | 5 | 6 | 7 | 8 | 9 | 10 |
| 11 | 12 | 13 | 14 | 15 | 16 | 17 |
| 18 | 19 | 20 | 21 | 22 | 23 | 24 |
| 25 | 26 | 27 | 28 | 29 | 30 | 1 |
July 2023
| Sun | Mon | Tue | Wed | Thu | Fri | Sat |
| --- | --- | --- | --- | --- | --- | --- |
| 25 | 26 | 27 | 28 | 29 | 30 | 1 |
| 2 | 3 | 4 | 5 | 6 | 7 | 8 |
| 9 | 10 | 11 | 12 | 13 | 14 | 15 |
| 16 | 17 | 18 | 19 | 20 | 21 | 22 |
| 23 | 24 | 25 | 26 | 27 | 28 | 29 |
| 30 | 31 | 1 | 2 | 3 | 4 | 5 |