Chalet Lac-a-L'Ile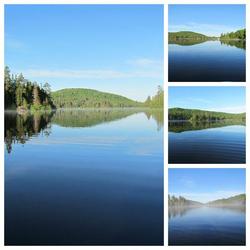 Location
Val-des-Lacs, Laurentides, Quebec, Canada
Photos
Description
Chalet Lac-a-L'Ile is a private & quiet cottage located at the end of a private road; so perfect for those with children. It has (4) bedrooms, (1) four piece bathroom, kitchen, & open concept living & dining all on one level. It is fully furnished & comes with all necessary items for your stay. There is satellite & plenty of DVD's for those rainy days or cold evenings; but no telephone. The chalet is situated on a lake that measures 2.13 km long & is approx. 40 feet deep. Non- navigable lake; The property has a shallow, easy-access waterfront. The lake is clean & has good swimming for all ages. There is trout, perch, pickerel, among other fish for the fishermen. The cottage comes equipped with 1 paddleboat, 1 aluminum boat & 2 kayaks to explore the lake. It has a propane BBQ for dinners outdoors, Cedar Gazebo & waterfront dock to sit & enjoy sunsets.
Pricing Information
June, July and August are fully booked; now accepting fall reservations. Take advantage of what the beautiful Laurentians have to offer during this spectacular time of year. Stay with us at Chalet Lac-a-L'Ile and experience the festival of colours.. Book now before your preferred weeks are gone. September 1-5 - 4 nights for $400 (discounted rate after long weekend) September 5-7 (Wkend) - 2 nights for $400 September 19-26 - 7 nights for $700 September 26-03 - 7 nights for $700 September 21-26 - 5 nights for $500 September 28-03 - 5 nights for $500 October 19-24 - 5 nights for $400 October 26-31 - 5 nights for $400
Amenities & Features
Location Map
We are very well situated in the Laurentians with easy access to Ste-Agathe-des-Monts (15min), Mont Tremblant (30min), Mont Saint Sauveur (45min), Morin Heights (30min), Val David (30min) and Saint Donat (20min) among many other villages. A half hour drive and you will have access to all of the activities you could imagine such as; golfing, go-karting, horseback ridding, paraski and wind surfing classes, hiking, fishing, & biking. There are water slides, a zoo. Cross country skiing, downhill skiing, skating, dog sled training, snowmobiling, snowshoeing, and ice fishing. There are several beaches. There's plenty of shopping. If you like the night life, the villages listed above has plenty of bistros, cafes, entertainment and so much more.....
Availability Calendar
Please note that it is the responsibility of the property owner to update the availability calender.
May 2023
| Sun | Mon | Tue | Wed | Thu | Fri | Sat |
| --- | --- | --- | --- | --- | --- | --- |
| 30 | 1 | 2 | 3 | 4 | 5 | 6 |
| 7 | 8 | 9 | 10 | 11 | 12 | 13 |
| 14 | 15 | 16 | 17 | 18 | 19 | 20 |
| 21 | 22 | 23 | 24 | 25 | 26 | 27 |
| 28 | 29 | 30 | 31 | 1 | 2 | 3 |
June 2023
| Sun | Mon | Tue | Wed | Thu | Fri | Sat |
| --- | --- | --- | --- | --- | --- | --- |
| 28 | 29 | 30 | 31 | 1 | 2 | 3 |
| 4 | 5 | 6 | 7 | 8 | 9 | 10 |
| 11 | 12 | 13 | 14 | 15 | 16 | 17 |
| 18 | 19 | 20 | 21 | 22 | 23 | 24 |
| 25 | 26 | 27 | 28 | 29 | 30 | 1 |
July 2023
| Sun | Mon | Tue | Wed | Thu | Fri | Sat |
| --- | --- | --- | --- | --- | --- | --- |
| 25 | 26 | 27 | 28 | 29 | 30 | 1 |
| 2 | 3 | 4 | 5 | 6 | 7 | 8 |
| 9 | 10 | 11 | 12 | 13 | 14 | 15 |
| 16 | 17 | 18 | 19 | 20 | 21 | 22 |
| 23 | 24 | 25 | 26 | 27 | 28 | 29 |
| 30 | 31 | 1 | 2 | 3 | 4 | 5 |