The WaterHouse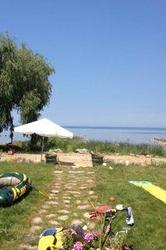 Location
Collingwood, Blue Mountain, Ontario, Canada
Photos
Description
The Waterhouse is a 5000 sq ft custom designed beach house with spectacular waterfront views from the kitchen, dining room, and living room. There are large upper and lower water front decks for outdoor barbequeing and dining. On the second floor, from the master bedroom enjoy a private deck. Then be amazed at the fourth level access to an upper roof deck for private sunbathing. Take in the incredible watercolours of Georgian Bay. The Ground Floor media room includes a walkout to a spacious deck leading to a large private sandy area with a fire pit and the crystal clear water for all water activities. There are a total five bedrooms and four bathrooms. Plenty of private spaces for reading, relaxation, doing Yoga or Pilates well as entertaining.
Pricing Information
The WaterHouse can be booked by the week or month. Please email or call about special rates.
Amenities & Features
Location Map
This very private location is 5 minutes from downtown Collingwood for groceries, shopping and dining. The Georgian Triangle area of Wasaga Beach, Blue Mountains, and Thornbury has a long list of excellent amenities and many activities such as biking, walking, cross country and downhill skiing, snowshoeing, sailing, golfing, fishing, swimming, spas, the arts, theatre, shopping, antique hunting and many unique, fabulous restaurants. There are 11 golf courses within a 30 minute radius. You are 15-20 Minutes to Osler, Toronto Ski Club, Devils Glen, Blue Mountain, Alpine Ski Club and Intrawest Village. 15 minutes to Wasaga Beach Provincial Park, the longest fresh water beach in the world. The Bruce Trail, the Georgian Bay Walking / Biking Trail, and Le Scandinave are just a short drive away.
Availability Calendar
Please note that it is the responsibility of the property owner to update the availability calender.
May 2023
| Sun | Mon | Tue | Wed | Thu | Fri | Sat |
| --- | --- | --- | --- | --- | --- | --- |
| 30 | 1 | 2 | 3 | 4 | 5 | 6 |
| 7 | 8 | 9 | 10 | 11 | 12 | 13 |
| 14 | 15 | 16 | 17 | 18 | 19 | 20 |
| 21 | 22 | 23 | 24 | 25 | 26 | 27 |
| 28 | 29 | 30 | 31 | 1 | 2 | 3 |
June 2023
| Sun | Mon | Tue | Wed | Thu | Fri | Sat |
| --- | --- | --- | --- | --- | --- | --- |
| 28 | 29 | 30 | 31 | 1 | 2 | 3 |
| 4 | 5 | 6 | 7 | 8 | 9 | 10 |
| 11 | 12 | 13 | 14 | 15 | 16 | 17 |
| 18 | 19 | 20 | 21 | 22 | 23 | 24 |
| 25 | 26 | 27 | 28 | 29 | 30 | 1 |
July 2023
| Sun | Mon | Tue | Wed | Thu | Fri | Sat |
| --- | --- | --- | --- | --- | --- | --- |
| 25 | 26 | 27 | 28 | 29 | 30 | 1 |
| 2 | 3 | 4 | 5 | 6 | 7 | 8 |
| 9 | 10 | 11 | 12 | 13 | 14 | 15 |
| 16 | 17 | 18 | 19 | 20 | 21 | 22 |
| 23 | 24 | 25 | 26 | 27 | 28 | 29 |
| 30 | 31 | 1 | 2 | 3 | 4 | 5 |