Sandy Lane Resort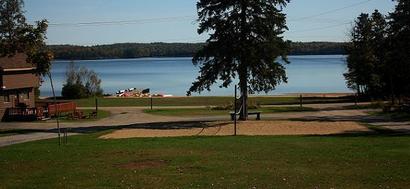 Location
Algonquin Highlands, Haliburton, Ontario, Canada
Photos
Description
All cottage styles at Sandy Lane Resort are detached (individual buildings). Completely self-contained with electric heat and air conditioning. The kitchens are fully equipped with all cooking utensils, pots, pans, dishes, cutlery, full-size refrigerator and stove, microwave, toaster, coffee maker, etc. A full inventory list is available at each cottage site. We supply all bedding and towels. No maid service.
Pricing Information
Open year round. Summer Packages are for 7 nights. Sandy Lane Resort on its golden sandy beach and crystal clear water that makes for excellent swimming for all. Family campfire pits and firewood, peddle boats, canoes, kayaks, shuffleboard, horseshoes, basketball, ping pong, volleyball, badminton, mountain bikes, outdoor hot tub, playground. All of these facilities are provided at no extra cost with your "Fun in the Sun" Family Plan Package. *Plus we offer a complimentary supervised recreation program all week (Monday - Friday). Offered during July and August. Weekly family plans start at $1395.00 for four adults, children under 16 years of age, to the limit of the cottage free. Children 16 years and over are charged as an extra adult. Enjoy spring, fall and winter packages starting at $170.00 per adult, per weekend based on 2 adults. $119.00 per adult for groups of 6 or more. Check our website for great specials and packages. www.sandylaneresort.com
Amenities & Features
Location Map
Enjoy, year round deluxe accommodation at Sandy Lane Resort. Our family friendly resort is located in Haliburton Highlands, Ontario, Canada just 24 km north of Minden (2.5 hours north of Toronto). Sandy Lane Resort is located on the beautiful sandy shores of crystal clear Halls Lake. We are 40 minutes south of Algonquin Park, just outside of the Muskokas.
Availability Calendar
Please note that it is the responsibility of the property owner to update the availability calender.
May 2023
| Sun | Mon | Tue | Wed | Thu | Fri | Sat |
| --- | --- | --- | --- | --- | --- | --- |
| 30 | 1 | 2 | 3 | 4 | 5 | 6 |
| 7 | 8 | 9 | 10 | 11 | 12 | 13 |
| 14 | 15 | 16 | 17 | 18 | 19 | 20 |
| 21 | 22 | 23 | 24 | 25 | 26 | 27 |
| 28 | 29 | 30 | 31 | 1 | 2 | 3 |
June 2023
| Sun | Mon | Tue | Wed | Thu | Fri | Sat |
| --- | --- | --- | --- | --- | --- | --- |
| 28 | 29 | 30 | 31 | 1 | 2 | 3 |
| 4 | 5 | 6 | 7 | 8 | 9 | 10 |
| 11 | 12 | 13 | 14 | 15 | 16 | 17 |
| 18 | 19 | 20 | 21 | 22 | 23 | 24 |
| 25 | 26 | 27 | 28 | 29 | 30 | 1 |
July 2023
| Sun | Mon | Tue | Wed | Thu | Fri | Sat |
| --- | --- | --- | --- | --- | --- | --- |
| 25 | 26 | 27 | 28 | 29 | 30 | 1 |
| 2 | 3 | 4 | 5 | 6 | 7 | 8 |
| 9 | 10 | 11 | 12 | 13 | 14 | 15 |
| 16 | 17 | 18 | 19 | 20 | 21 | 22 |
| 23 | 24 | 25 | 26 | 27 | 28 | 29 |
| 30 | 31 | 1 | 2 | 3 | 4 | 5 |