Linda's Place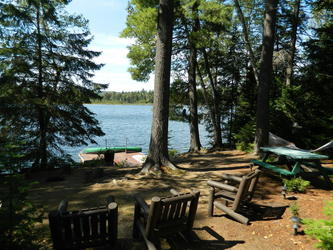 Photos
Description
Linda's Place is a secluded, quiet location for great summer getaway. This two-bedroom, 1-1/2 storey log home is on a quiet bay of Hassard Lake/Magnetewan River. Located on a quiet dead end road, this open-concept, pine interior cabin includes custom kitchen cabinetry as well as a four piece bath with Jacuzzi tub. There is one queen bedroom on the main floor, one double bed plus a double/single bunk in the loft bedroom. The patio door in the living space opens onto deck plus the screened porch facing western waterfront for beautiful sunsets The gradual slope to water & dock make it ideal for children Enjoy sun and shade in front with double hammock, listen to the loons or fish from the dock. . Excellent bass & pike fishing with seven miles of accessible river. Algonquin Park's Rain Lake access is a short distance and Trans-Canada Trail nearby. Non-smoking. No seadoos please. Wifi & linens available. ------------------------------------------------------------------------
Pricing Information
July & Aug are rented for full weeks only. Rentals are Sat to Sat.
Amenities & Features
Location Map
1 km from 'downtown' Kearney. Gas station, library, LCBO, General store, restaurant & snack bar. 30 km to Huntsville.
Availability Calendar
Please note that it is the responsibility of the property owner to update the availability calender.
May 2022
| Sun | Mon | Tue | Wed | Thu | Fri | Sat |
| --- | --- | --- | --- | --- | --- | --- |
| 1 | 2 | 3 | 4 | 5 | 6 | 7 |
| 8 | 9 | 10 | 11 | 12 | 13 | 14 |
| 15 | 16 | 17 | 18 | 19 | 20 | 21 |
| 22 | 23 | 24 | 25 | 26 | 27 | 28 |
| 29 | 30 | 31 | 1 | 2 | 3 | 4 |
June 2022
| Sun | Mon | Tue | Wed | Thu | Fri | Sat |
| --- | --- | --- | --- | --- | --- | --- |
| 29 | 30 | 31 | 1 | 2 | 3 | 4 |
| 5 | 6 | 7 | 8 | 9 | 10 | 11 |
| 12 | 13 | 14 | 15 | 16 | 17 | 18 |
| 19 | 20 | 21 | 22 | 23 | 24 | 25 |
| 26 | 27 | 28 | 29 | 30 | 1 | 2 |
July 2022
| Sun | Mon | Tue | Wed | Thu | Fri | Sat |
| --- | --- | --- | --- | --- | --- | --- |
| 26 | 27 | 28 | 29 | 30 | 1 | 2 |
| 3 | 4 | 5 | 6 | 7 | 8 | 9 |
| 10 | 11 | 12 | 13 | 14 | 15 | 16 |
| 17 | 18 | 19 | 20 | 21 | 22 | 23 |
| 24 | 25 | 26 | 27 | 28 | 29 | 30 |
| 31 | 1 | 2 | 3 | 4 | 5 | 6 |