Hilary's Hideaway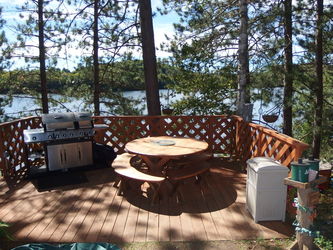 Photos
Description
Enjoy your vacation in this well maintained year round dwelling. Spectacular sunsets can be viewed overlooking the lake. There is a nearby boat launch if you care to bring your boat. There are two decks, the upper deck has a serious barbeque and the lower deck has a screened gazebo. An aluminum boat and two kayak, most times three are included so you can explore the whole lake which is about a kilometer long. The close by marsh is a nature lovers paradise that can be explored by kayak. The beach has a nice gradual entry and a sandy bottom, great for the kids.
Pricing Information
Booking now for 2015 $1890 per week High Season
Amenities & Features
Location Map
Wilberforce is just four kilometers away where you can find a Bait Shop, Scotiabank, LCBO/Beer store, a restaurant (with delivery), a General Store, Gas Station and Foodland. The friendly Wilberforce Legion offers numerous dinners and great breakfasts on certain days. There is also a Geocache at the end of the driveway.
Availability Calendar
Please note that it is the responsibility of the property owner to update the availability calender.
March 2021
| Sun | Mon | Tue | Wed | Thu | Fri | Sat |
| --- | --- | --- | --- | --- | --- | --- |
| 28 | 1 | 2 | 3 | 4 | 5 | 6 |
| 7 | 8 | 9 | 10 | 11 | 12 | 13 |
| 14 | 15 | 16 | 17 | 18 | 19 | 20 |
| 21 | 22 | 23 | 24 | 25 | 26 | 27 |
| 28 | 29 | 30 | 31 | 1 | 2 | 3 |
April 2021
| Sun | Mon | Tue | Wed | Thu | Fri | Sat |
| --- | --- | --- | --- | --- | --- | --- |
| 28 | 29 | 30 | 31 | 1 | 2 | 3 |
| 4 | 5 | 6 | 7 | 8 | 9 | 10 |
| 11 | 12 | 13 | 14 | 15 | 16 | 17 |
| 18 | 19 | 20 | 21 | 22 | 23 | 24 |
| 25 | 26 | 27 | 28 | 29 | 30 | 1 |
May 2021
| Sun | Mon | Tue | Wed | Thu | Fri | Sat |
| --- | --- | --- | --- | --- | --- | --- |
| 25 | 26 | 27 | 28 | 29 | 30 | 1 |
| 2 | 3 | 4 | 5 | 6 | 7 | 8 |
| 9 | 10 | 11 | 12 | 13 | 14 | 15 |
| 16 | 17 | 18 | 19 | 20 | 21 | 22 |
| 23 | 24 | 25 | 26 | 27 | 28 | 29 |
| 30 | 31 | 1 | 2 | 3 | 4 | 5 |