Lakeside Gem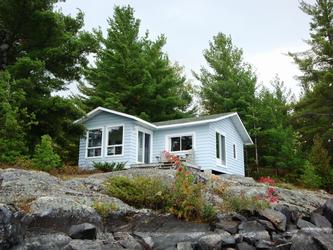 Photos
Description
This private, open and airy 2 bedroom cottage is situated right on your very own private point atop the Canadian Shield. Featuring unobstructed, panoramic views of beautiful Lake Skootamatta in the Land O'Lakes region. Recently purchased and lovingly restored to their original charm - STARCROSS COTTAGES - consists of three cozy cottages situated right on the water overlooking a pristine sandy beach. There are two beachfront cottages, and the third is this private/secluded point cottage. The cottages can be rented out individually or as a whole for larger groups. The cottages are comfortably nestled in a private bay with over 320 feet of secluded waterfront, mainly natural sandy beach and a beautiful tree-lined rocky point.
Amenities & Features
Location Map
Land O'Lakes, Northeastern Ontario, Cloyne, Northbrook
Availability Calendar
Please note that it is the responsibility of the property owner to update the availability calender.
May 2022
| Sun | Mon | Tue | Wed | Thu | Fri | Sat |
| --- | --- | --- | --- | --- | --- | --- |
| 1 | 2 | 3 | 4 | 5 | 6 | 7 |
| 8 | 9 | 10 | 11 | 12 | 13 | 14 |
| 15 | 16 | 17 | 18 | 19 | 20 | 21 |
| 22 | 23 | 24 | 25 | 26 | 27 | 28 |
| 29 | 30 | 31 | 1 | 2 | 3 | 4 |
June 2022
| Sun | Mon | Tue | Wed | Thu | Fri | Sat |
| --- | --- | --- | --- | --- | --- | --- |
| 29 | 30 | 31 | 1 | 2 | 3 | 4 |
| 5 | 6 | 7 | 8 | 9 | 10 | 11 |
| 12 | 13 | 14 | 15 | 16 | 17 | 18 |
| 19 | 20 | 21 | 22 | 23 | 24 | 25 |
| 26 | 27 | 28 | 29 | 30 | 1 | 2 |
July 2022
| Sun | Mon | Tue | Wed | Thu | Fri | Sat |
| --- | --- | --- | --- | --- | --- | --- |
| 26 | 27 | 28 | 29 | 30 | 1 | 2 |
| 3 | 4 | 5 | 6 | 7 | 8 | 9 |
| 10 | 11 | 12 | 13 | 14 | 15 | 16 |
| 17 | 18 | 19 | 20 | 21 | 22 | 23 |
| 24 | 25 | 26 | 27 | 28 | 29 | 30 |
| 31 | 1 | 2 | 3 | 4 | 5 | 6 |