River Road Family Cottage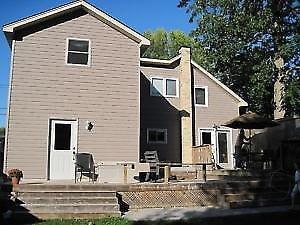 Photos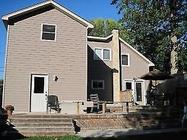 Description
Grand Bend. LOCATION LOCATION!! This family Cottage has it all. Large deck with hot tub, large lawn with fire-pit. Kids play area, toys, bikes. Walk to sandy, shallow entry beach, ice cream & fish and chips just up the street. 1 minute walk to Village with shopping, pubs, parks, splash park, and more. Golf and Motorsports Park close by. Cottage offers wifi, AC, Dishwasher, Laundry. Guests bring own bedding & Towels. Families Only.
Pricing Information
3 night minimum.
Amenities & Features
Location Map
Quiet side street, one block from Main Street.
Availability Calendar
Please note that it is the responsibility of the property owner to update the availability calender.
April 2023
| Sun | Mon | Tue | Wed | Thu | Fri | Sat |
| --- | --- | --- | --- | --- | --- | --- |
| 26 | 27 | 28 | 29 | 30 | 31 | 1 |
| 2 | 3 | 4 | 5 | 6 | 7 | 8 |
| 9 | 10 | 11 | 12 | 13 | 14 | 15 |
| 16 | 17 | 18 | 19 | 20 | 21 | 22 |
| 23 | 24 | 25 | 26 | 27 | 28 | 29 |
| 30 | 1 | 2 | 3 | 4 | 5 | 6 |
May 2023
| Sun | Mon | Tue | Wed | Thu | Fri | Sat |
| --- | --- | --- | --- | --- | --- | --- |
| 30 | 1 | 2 | 3 | 4 | 5 | 6 |
| 7 | 8 | 9 | 10 | 11 | 12 | 13 |
| 14 | 15 | 16 | 17 | 18 | 19 | 20 |
| 21 | 22 | 23 | 24 | 25 | 26 | 27 |
| 28 | 29 | 30 | 31 | 1 | 2 | 3 |
June 2023
| Sun | Mon | Tue | Wed | Thu | Fri | Sat |
| --- | --- | --- | --- | --- | --- | --- |
| 28 | 29 | 30 | 31 | 1 | 2 | 3 |
| 4 | 5 | 6 | 7 | 8 | 9 | 10 |
| 11 | 12 | 13 | 14 | 15 | 16 | 17 |
| 18 | 19 | 20 | 21 | 22 | 23 | 24 |
| 25 | 26 | 27 | 28 | 29 | 30 | 1 |