Hank's Hideout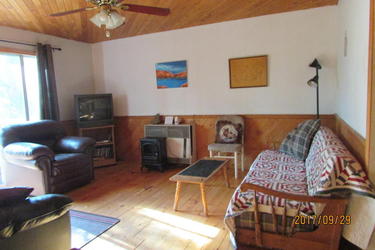 Location
Coe Hill, Kawartha Lakes, Ontario, Canada
Photos
Description
Vacation Rental - Private & Cozy Countryside Cabin near Bancroft ACCEPTING RESERVATIONS MAY - NOVEMBER 2020 This cozy, rustic 2 bedroom cottage is not located on the water, but in the countryside, surrounded by trees and a variety of wildlife. Secluded, quiet and peaceful. Private and tranquil, ideal for musicians, artists and writers Public beaches a few km's away on Wollaston Lake and Chandos Lake ( sandy bottom, with shallow water entry) Many other lakes in the area for swimming and fishing. Most offer a public boat launch.
Pricing Information
Suitable for 2 - 4 persons. (Maximum capacity 6 persons) Rates: 2 night minimum July & August are booked in full weeks. . 2020 Rates: Advance Reservations Fall $105.00/night, $ 700.00/week (September 8 – November 30) Spring: : $105.00/night, $700.00 per week (May 1 - June 25) Summer: $ 800.00/week (June 26 - Sept 7) July & August - (7 nights) Booking Sunday to Sunday *** A 50% deposit is required at time of reservation Located outside of Coe Hill, ON K0L 1P0 Visit our FB page: https://www.facebook.com/Hanks-Hideout-153185081391430
Amenities & Features
Location Map
The dark night sky is perfect for star gazing Relax by the warm crackling fire Enjoy a hike in the woods, or discover some of the local hiking trails including the Gut Conservation Area, Nellie Lund, Eagles Nest and McGeachie. Quiet country roads for biking and cycling ATV trail access minutes away You can ride from the cabin to the trails. Explore smaller lakes for canoeing and kayaking Golf courses a short distance away Unique gift shops, farmers market, country yard sales Minutes to Coe Hill for groceries, gas, liquor Wheelchair accessible Comfortable sleeping for a maximum of 6 persons We are pet friendly. Dogs must be tied or leashed at all times when outdoors. Propane and infrared heating Hot and cold running water Indoor plumbing TV with DVD player and a selection of DVD's Kitchen equipped with dishes, pots, pans, cutlery 4 burner propane stove, microwave and toaster oven Propane BBQ with propane Outdoor fire pit Firewood available
Availability Calendar
Please note that it is the responsibility of the property owner to update the availability calender.
May 2022
| Sun | Mon | Tue | Wed | Thu | Fri | Sat |
| --- | --- | --- | --- | --- | --- | --- |
| 1 | 2 | 3 | 4 | 5 | 6 | 7 |
| 8 | 9 | 10 | 11 | 12 | 13 | 14 |
| 15 | 16 | 17 | 18 | 19 | 20 | 21 |
| 22 | 23 | 24 | 25 | 26 | 27 | 28 |
| 29 | 30 | 31 | 1 | 2 | 3 | 4 |
June 2022
| Sun | Mon | Tue | Wed | Thu | Fri | Sat |
| --- | --- | --- | --- | --- | --- | --- |
| 29 | 30 | 31 | 1 | 2 | 3 | 4 |
| 5 | 6 | 7 | 8 | 9 | 10 | 11 |
| 12 | 13 | 14 | 15 | 16 | 17 | 18 |
| 19 | 20 | 21 | 22 | 23 | 24 | 25 |
| 26 | 27 | 28 | 29 | 30 | 1 | 2 |
July 2022
| Sun | Mon | Tue | Wed | Thu | Fri | Sat |
| --- | --- | --- | --- | --- | --- | --- |
| 26 | 27 | 28 | 29 | 30 | 1 | 2 |
| 3 | 4 | 5 | 6 | 7 | 8 | 9 |
| 10 | 11 | 12 | 13 | 14 | 15 | 16 |
| 17 | 18 | 19 | 20 | 21 | 22 | 23 |
| 24 | 25 | 26 | 27 | 28 | 29 | 30 |
| 31 | 1 | 2 | 3 | 4 | 5 | 6 |