Cozy Cottage sleeps 16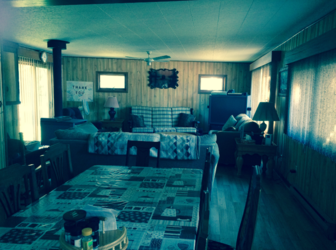 Location
Bracebridge,, Muskoka, Ontario, Canada
Photos
Description
This Muskoka gem overlooks the beautiful and private Prospect Lake. Come and enjoy the cottage life with all the comforts of home. The cottages can accommodate 16 guests so it makes it a great place for a family reunion or a group of friends to get together. Fish, swim or relax on our docks or explore the lake in our canoe, kayak or pedal boat. The cottages are a 15 to 20 minute drive to the picturesque Town of Bracebridge. This small town is in the heart of the Muskoka's offering a variety of activities for the whole family including shopping, dining, Santa's Village and Lady Muskoka boat tours. There are a number of excellent golf courses within a half hour to 45 minute drive from the cottages.
Pricing Information
BOTH COTTAGES: $2600 per week during July & August $1800 per weekend, Victoria Day, Labour Day, Thanksgiving $1400 per weekend, May, June, Sept, Oct PAYMENTS: 50% Non-Refundable deposit required at time of booking Balance due 4 weeks prior to occupancy $500 Security deposit required with final payment PAYMENT METHODS: Cheque, Money Order, email transfer Weekly Rental: Check in Saturday 3pm and check out is 10:30am the following Saturday. Week-end Rental: Check-in is 4:00 Friday - Check-out is 8:00pm Sunday Long Weekend: Check-in is 4:00 Friday - Check-out is 8:00pm Monday
Amenities & Features
Location Map
Our cottages are located 2 hours north of Toronto just outside Bracebridge in the heart of Muskoka. The cottages are open from May to November. Both cottages are located side by side which makes it a perfect setting for a family gathering or a group of friends. Small cottage has 1 floor with 1 full bathroom and can sleep 6 with 3 bedrooms, each equipped with double beds Main cottage has 2 floors with 1 full & 1 half bathroom and can sleep 10 with 4 bedrooms equipped with with 2 queen beds, 2 single beds & 2 sets of bunk beds Gentle sloping ground, no stairs 2 docks for your use Kayak, pedal boat & canoe available Gentle slope to the shoreline with shallow entry to clean clear water Sun lounges, patio chairs, 2 picnic tables Fire pit TV, DVD, VCR, Satellite in both cottages Books, board games, cards Washing machine/dryer in garage Well equipped kitchens complete with water coolers, stoves, microwaves, coffee makers,
Availability Calendar
Please note that it is the responsibility of the property owner to update the availability calender.
April 2020
| Sun | Mon | Tue | Wed | Thu | Fri | Sat |
| --- | --- | --- | --- | --- | --- | --- |
| 29 | 30 | 31 | 1 | 2 | 3 | 4 |
| 5 | 6 | 7 | 8 | 9 | 10 | 11 |
| 12 | 13 | 14 | 15 | 16 | 17 | 18 |
| 19 | 20 | 21 | 22 | 23 | 24 | 25 |
| 26 | 27 | 28 | 29 | 30 | 1 | 2 |
May 2020
| Sun | Mon | Tue | Wed | Thu | Fri | Sat |
| --- | --- | --- | --- | --- | --- | --- |
| 26 | 27 | 28 | 29 | 30 | 1 | 2 |
| 3 | 4 | 5 | 6 | 7 | 8 | 9 |
| 10 | 11 | 12 | 13 | 14 | 15 | 16 |
| 17 | 18 | 19 | 20 | 21 | 22 | 23 |
| 24 | 25 | 26 | 27 | 28 | 29 | 30 |
| 31 | 1 | 2 | 3 | 4 | 5 | 6 |
June 2020
| Sun | Mon | Tue | Wed | Thu | Fri | Sat |
| --- | --- | --- | --- | --- | --- | --- |
| 31 | 1 | 2 | 3 | 4 | 5 | 6 |
| 7 | 8 | 9 | 10 | 11 | 12 | 13 |
| 14 | 15 | 16 | 17 | 18 | 19 | 20 |
| 21 | 22 | 23 | 24 | 25 | 26 | 27 |
| 28 | 29 | 30 | 1 | 2 | 3 | 4 |