Four Winds Cottage Resort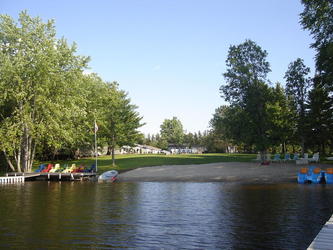 Photos
Description
Four Winds Cottage Resort is a family operated resort located in Parry Sound on beautiful Lake Manitouwabing, in the Muskoka Region of Ontario Canada. Our cottage resort is an ideal vacation destination for families, groups, and couples looking for a romantic getaway. This family friendly resort offers cozy waterfront cottages, a sandy beach, swimming, fishing, and boat rentals and a great playground for the kids, too! Family vacations at Ontario Resorts can't be beat, especially if you stay at Four Winds Cottage Resort! Call today to book your fun getaway! Four Winds Resort... Its close by, but a world away from the city!
Pricing Information
The resort lends itself to family holidays, groups of friends, weddings or romantic getaways.
Amenities & Features
Location Map
Four Winds Cottage Resort is located just a short drive out of Parry Sound on all paved roads. The resort sits on the sandy shores of Lake Manitouwabing.
Availability Calendar
Please note that it is the responsibility of the property owner to update the availability calender.
October 2020
| Sun | Mon | Tue | Wed | Thu | Fri | Sat |
| --- | --- | --- | --- | --- | --- | --- |
| 27 | 28 | 29 | 30 | 1 | 2 | 3 |
| 4 | 5 | 6 | 7 | 8 | 9 | 10 |
| 11 | 12 | 13 | 14 | 15 | 16 | 17 |
| 18 | 19 | 20 | 21 | 22 | 23 | 24 |
| 25 | 26 | 27 | 28 | 29 | 30 | 31 |
November 2020
| Sun | Mon | Tue | Wed | Thu | Fri | Sat |
| --- | --- | --- | --- | --- | --- | --- |
| 1 | 2 | 3 | 4 | 5 | 6 | 7 |
| 8 | 9 | 10 | 11 | 12 | 13 | 14 |
| 15 | 16 | 17 | 18 | 19 | 20 | 21 |
| 22 | 23 | 24 | 25 | 26 | 27 | 28 |
| 29 | 30 | 1 | 2 | 3 | 4 | 5 |
December 2020
| Sun | Mon | Tue | Wed | Thu | Fri | Sat |
| --- | --- | --- | --- | --- | --- | --- |
| 29 | 30 | 1 | 2 | 3 | 4 | 5 |
| 6 | 7 | 8 | 9 | 10 | 11 | 12 |
| 13 | 14 | 15 | 16 | 17 | 18 | 19 |
| 20 | 21 | 22 | 23 | 24 | 25 | 26 |
| 27 | 28 | 29 | 30 | 31 | 1 | 2 |