Gorgeous Lake Front Cottage Haliburton Drag Lake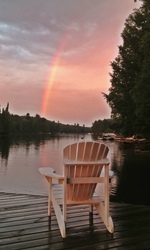 Location
Haliburton, Haliburton, Ontario, Canada
Photos

Description
Gorgeous Lake Front Cottage at the infamous Haliburton Highland's on Drag Lake – known for its Trophy Lake Trout! Only 2.5hrs north of Toronto. Highlights Include: *3.5acres lake front boreal forest property, Sunset & Sunrise view, Calm bay perfect for swimming, jet skis, canoeing, paddle boarding, etc, Great fishing right off the dock! Multiple story decks and docks, wild edibles, fire pit, 10 minutes to picturesque Haliburton Village, and more… we are also Pet Friendly. Sleeps 8-15. Video Link: http://www.youtube.com/watch?v=Y_3ZCG2JCS4&feature=youtu.be
Pricing Information
Our lovely Sky Cottage and Main Cottage combination would be perfect for the extended family looking for their privacy and yet in close proximity to one another. What makes our two cottages interesting is that they are both completely self-contained properties which includes full kitchen, bathrooms, Satellite TV, private docks, decks, propane barbeques, comfortable seating outside, Adirondack chairs, and the same great view of the lake. The cottages sits slightly above the lake with well-constructed stairs which are easy to navigate to the shoreline. At the main cottage there is a rather extensive dock and furnished shore deck for your lounging enjoyment. Both cottages are also on the same property, and next to each other - rent one or both. From $1400 for the large cottage or $800 for the small or save and rent both for $2000. Book this package today!
Amenities & Features
Location Map
This cottage is situated on Outlet Bay of Drag Lake which is a large lake and one of the great trout lakes of Haliburton County. You can fish right from our docks! Our waterfront is great for swimming as well. We have a natural beach area with a gradual slope into the water or just jump right off the dock and into the water. Outlet Bay is also perfect for canoeing, jet skiing, and paddle boarding as the water is calm with almost no current. Nearby by activities The cottage is within 10 minutes of historic Haliburton Village which has transformed itself into a picturesque tourist town. Haliburton Village has a large grocery store, LCBO, Beer store, various restaurants and fast food outlets, Irish Pub, Galleries, etc. There are many medical/dental/vet clinics as well as the Haliburton Hospital. You can also golf, go offroad ATV'ing, visit the Kwarthas Ice Cream Factory, and the Grey Wolf Sanctuary.
Availability Calendar
Please note that it is the responsibility of the property owner to update the availability calender.
March 2021
| Sun | Mon | Tue | Wed | Thu | Fri | Sat |
| --- | --- | --- | --- | --- | --- | --- |
| 28 | 1 | 2 | 3 | 4 | 5 | 6 |
| 7 | 8 | 9 | 10 | 11 | 12 | 13 |
| 14 | 15 | 16 | 17 | 18 | 19 | 20 |
| 21 | 22 | 23 | 24 | 25 | 26 | 27 |
| 28 | 29 | 30 | 31 | 1 | 2 | 3 |
April 2021
| Sun | Mon | Tue | Wed | Thu | Fri | Sat |
| --- | --- | --- | --- | --- | --- | --- |
| 28 | 29 | 30 | 31 | 1 | 2 | 3 |
| 4 | 5 | 6 | 7 | 8 | 9 | 10 |
| 11 | 12 | 13 | 14 | 15 | 16 | 17 |
| 18 | 19 | 20 | 21 | 22 | 23 | 24 |
| 25 | 26 | 27 | 28 | 29 | 30 | 1 |
May 2021
| Sun | Mon | Tue | Wed | Thu | Fri | Sat |
| --- | --- | --- | --- | --- | --- | --- |
| 25 | 26 | 27 | 28 | 29 | 30 | 1 |
| 2 | 3 | 4 | 5 | 6 | 7 | 8 |
| 9 | 10 | 11 | 12 | 13 | 14 | 15 |
| 16 | 17 | 18 | 19 | 20 | 21 | 22 |
| 23 | 24 | 25 | 26 | 27 | 28 | 29 |
| 30 | 31 | 1 | 2 | 3 | 4 | 5 |